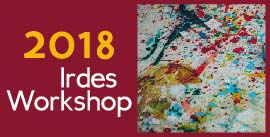 Paris, France, 21st-22ndJune 2018
Call for Papers
We are pleased to announce the fourth IRDES Workshop on Applied Health Economics and Policy Evaluation, to take place in Paris on June 21st-22nd 2018. The workshop is organized by IRDES, Institute for Research and Information in Health Economics, Paris, France, with the Chaire Santé Dauphine.
Submission and selection of papers
You are invited to submit a full paper before the 16th January 2018. Papers will be selected by the scientific committee on the basis of a full or advanced draft written in English. Papers should include empirical material and only unpublished papers at the time of the submission will be accepted. The submission should contain author's name(s) and affiliation(s), a structured abstract and keywords (up to five).
Authors have to submit their complete papers in PDF format through the submission form.
Decisions will be made by March 5th 2018. Registration will be open thereafter.
Registration fees are 200 euros. Only authors or coauthors can apply for registration. Some PhD students or early career researchers may benefit from free registration upon request.
The workshop will cover the following topics, with an emphasis on Public Policies analysis and evaluation: Social Health Inequalities, Health services utilization, Insurance, Health services delivery and organization, Econometric methodology. About 16 papers will be selected. Each paper will be allocated 20 minutes for presentation and 20 minutes for discussion (introduced by a participant or a member of the scientific committee).
Damien Bricard (IRDES), Brigitte Dormont (Paris Dauphine University and Chaire Santé Dauphine, to be confirmed), Paul Dourgnon (IRDES), Agnès Gramain (Université Lorraine), Alberto Holly (HEC Lausanne), Tor Iversen (University of Oslo), Julien Mousquès (IRDES), Owen O'Donnell (University of Macedonia and Erasmus university), Aurélie Pierre (IRDES)
Contact: ahepe@irdes.fr